Apply for Category Merchandiser job in Manchester, Greater Manchester, Greater Manchester, United Kingdom.
Job Description
: Category Merchandiser
Up to £30,000
Manchester
A fast paced Fragrance Distributer is looking for a Category merchandiser to join their ever growing team.
You will work closely with the Account Manager and be in charged of the key FMCG Grocer accounts.
This is a broad merchandising role so the successful Category Merchandiser will need to be adaptable as the role is both analytical and operational and positioned "between" buying, marketing and operations plus looking after the key customer Grocer accounts.
Other key responsibilities will include:
* Product File Management ensuring accurate and up to date listings
* Managing customer stock and sales models using customer portals such as ASDA retail Link and TESCO Connect
* Inventory Management by projecting requirements to plan intake with buying
* Operational Planning to formulate detailed plans for outbound
* Management Information, producing weekly / monthly management reports
* Planning future Fragrance ranges by analyzing customer sales data
* Engaging with Customers by email, phone and face to face
The role is pivotal in the delivery of services to key accounts.
The ideal Category Manager will also need to build strong internal relationships with buying, marketing and operations, whilst supporting Senior Management.
You will also need to forge excellent external relationships with the Customer's Buying and Supply teams to deliver exceptional customer service.
If you have the following knowledge, skills and experience:
* +3 years experience in retail / FMCG supply encompassing Merchandising, Business reporting, Supply Chain Management and Operational Planning
* Relevant degree
* Use of inventory systems; NAV preferable
* Experience with customer portals such as ASDA retail Link and TESCO Connect
* Microsoft office with strong Excel skills - formulas such as IF, SUMIF, SUMIFS, V Lookup, Index Match plus pivot tables
* Highly numerical and analytical with excellent attention to detail and accuracy
* Excellent planning skills with the ability to lead through various tasks
* Excellent written and oral communication skills
* A motivated team player, adaptable and flexible
* Able to work under pressure and at pace particularly during peak months
* Excellent Customer facing skills
Then Ellis at Randstad would love to speak to you.
To apply for the role please complete the below link or alternatively call (phone number removed) to find out more about this amazing Fragrance Distributor based in Manchester.
You will be joining an ever growing, family run organisation that is one of the leading players in the field. ON top of that they have won countless awards and thrive on career progression and personal development.
Based just on the outskirts of the Manchester city centre they are easy to get to via bus, tram and car and have free on site parking.
This role will be to interview and start asap so Apply today to avoid missing out.
Randstad Business Support acts as an employment business when supplying temporary staff and as an employment agency when introducing candidates for permanent employment with a client. Randstad Business Support is an equal opportunities employer and decisions are made on merits alone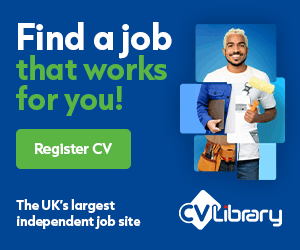 Job Title:
Category Merchandiser
Job Type:
Permanent
Location:
Manchester, Greater Manchester
Salary:
£20000 - £30000/annum £30,000
Company:
CV-Library
Category:
Retail/Purchasing
Date Posted:
2020-01-27 10:28:41
Benefits:
£30,000