Apply for Electrical Engineering Supervisor job in Mountsorrel, Leicestershire, Leicestershire, United Kingdom.
Job Description
: We are recruiting for an Electrical Engineering Supervisor on a rotating 5 on 4 off shift pattern for our client's location in near Loughborogh.
The successful candidate will be the effective link between the Operations and Engineering team. Delivering a high level of quality to varied Electrical Engineering related activities. You will be working closely with all members of the engineering team, reporting directly to the Electrical Maintenance Manager. Ensuring all tasks are effectively carried out to a high calibre. Providing supervision for the Electrical Maintenance Engineers, whilst providing technical expertise in electrical systems and health and safety processes and policies.
Key Tasks
* Installation and commissioning of new site equipment.
* Carry out site PPM's in accordance with site maintenance scheme and AAA.
* Help to create new electrical drawings when modifications are made to existing circuits.
* Fault find on a variety of electrical systems.
* Inspection and testing of new and existing electrical circuits.
* Attend relevant training courses to ensure you are up to date with the latest electrical legislation and regulations.
* Have a input with Electrical Manager/Supervisor into site RCA's to large breakdowns.
* Installation of all forms of electrical containment and electrical wiring methods.
* Be involved in small to medium site improvement projects.
* Be a part of the new AAA maintenance scheme and engage with the team as to potential improvements and quality.
Qualifications / Requirements / Capabilities
* Recognised apprenticeship preferably a higher level standard
* ONC / HNC Desirable
* 18th edition wiring regulations
* Inspection and testing qualification
* High Voltage Ap training (Or working towards)
* Challenge people, hold them accountable for job completion and quality of completion
* Computer literate. Familiarity with computer software (word, excel, etc)
* Demonstrate problem solving capabilities
* Good presentation, communication and skills
* A positive, proactive can - do attitude
Fantastic benefits including best in class pension scheme, 25 days holiday. Excellent salary and progression opportunities within this blue-chip organisation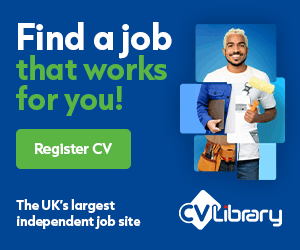 Job Title:
Electrical Engineering Supervisor
Job Type:
Permanent
Location:
Mountsorrel, Leicestershire
Salary: Company:
CV-Library
Category:
Engineering
Date Posted:
2020-01-24 15:22:12
Benefits: